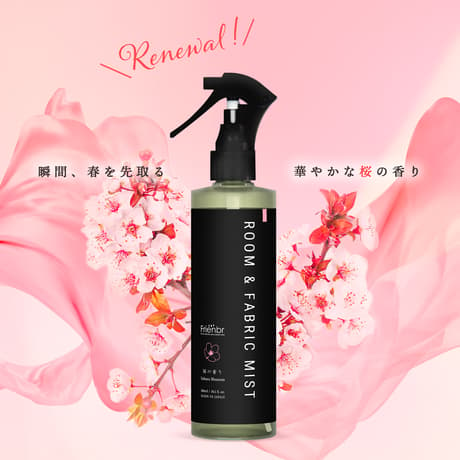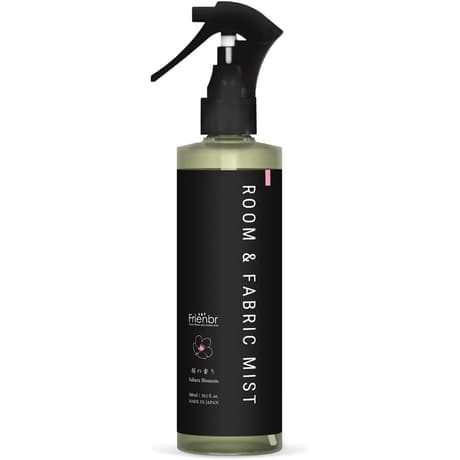 Frienbr Room & Fabric Mist Sakura (300ml/10.1fl.oz.)
It achieves the freshness and sweet and sour taste of spring. The moment you spray it on, you will feel the splendor of cherry blossoms in full bloom, creating a spring-like space.
Details
The renewed version is different!
The renewed version, which is alcohol-free and more hypoallergenic, comes in a generous 300 ml bottle. Therefore, one bottle can be used for a long time.
In addition, naturally occurring grapefruit seed extract, which is effective in sterilization and antibacterial activity, has been added to the product, while the oyster tannin-derived extract, which is effective in deodorization, remains unchanged. Even a small amount of this product is expected to be effective.
The secret of its popularity is the scent of cherry blossoms.
Cherry blossoms release a sweet and sour fragrance in spring. The sweet fragrance of cherry blossoms, which is aptly described as "graceful woman," also has a hint of nobility and refinement.
Based on this image of cherry blossoms, Frienbr Room & Fabric Mist Cherry Blossom Scent has been reborn.
In reality, cherry blossoms can only be enjoyed for about two weeks a year, but they can be enjoyed all year round through the "fragrance" of this product.
*Effects and feelings vary from person to person.
Frienbr Room & Fabric Mist Attraction
Room & Fabric Mist is produced in Japan and uses naturally occurring oyster tannin as the deodorant ingredient.
This spray-type mist contains deodorizing and disinfecting ingredients along with fragrance ingredients, so it removes bothersome odors while enjoying the misty fragrance that spreads through the space.
Simply spray the mist to clean the air, maintain a fresh space, and renew your mind!