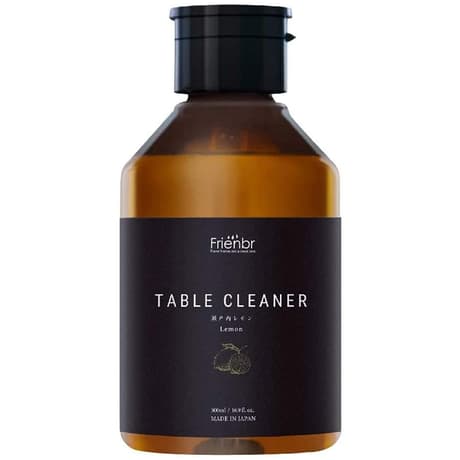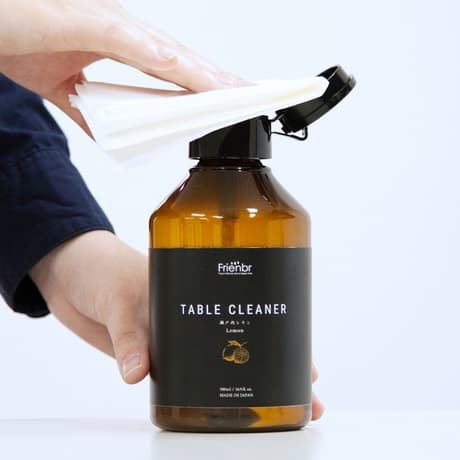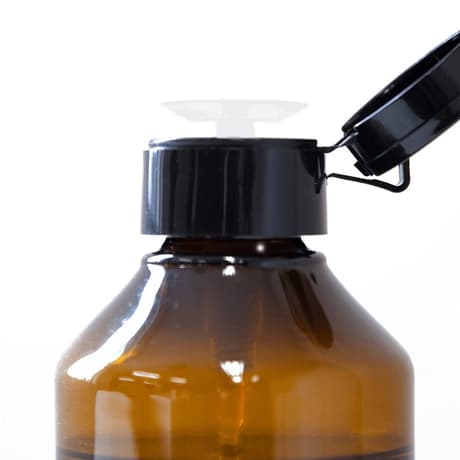 Table Cleaner Setouchi Lemon 500ml
Just one push on a kitchen paper or dry cloth and wipe to keep your favorite places germ & virus free. From Frienbr, a company that enjoys fragrance, comes "Table Cleaner Setouchi Lemon," a strong ally for new lifestyles!
Details
Frienbr Table Cleaner, a strong ally of the new lifestyle, is here!
What is Frienbr Table Cleaner?
This cleaner fully demonstrates the double effect of "sterilization × fragrance" that can only be realized by Frienbr, which enjoys fragrance.
It is very easy to use! Simply apply one push of table cleaner to a kitchen paper or dry cloth and wipe the area of concern to eliminate bacteria!
💡Triple action of sterilization, antibacterial and aromatic
As a "scented disinfectant cleaner," it also provides a refreshing Setouchi lemon fragrance while disinfecting and antibacteriating.
💡Contains plant-derived extracts for safety
Contains naturally occurring grapefruit seed extract & rosemary extract for antibacterial effect.
Sanitization can be performed without using chlorine-based ingredients.
It is also free of petroleum-based surfactants and uses ingredients used in cosmetics, so it is safe to touch the skin.
*Do not use directly on the skin.
💡Desktop push type pump
Open the lid and push the pump! A quick wipe is all it takes to sterilize the air, and the fresh Setouchi lemon fragrance will soothe you.
💡Stylish bottle design
The bottle design is simple and stylish, blending in with any stylish room.
It can be placed anywhere around a dining table, chest, desk, etc. without feeling out of place.
💡Many active scenes
It is effective for cleaning the dining table before and after meals, as well as in the kitchen, refrigerator, desk, and around water.
Also good for sterilizing remote controls, smart phones*, switches, doorknobs, etc. that are often touched by hand
*When using the cleaner on AV equipment or electronic equipment, please be very careful about the amount of cleaner used to avoid malfunction.
Where to use
Sterilization of tables, doorknobs, household items, office desks, etc.
Usage
Open the cap at the top of the pump, push it against a kitchen paper, tissue, or dry cloth, and wipe the area to be sanitized.

※One push per time is the standard. Adjust the number of pushes according to the area to be sterilized.
※No need to wipe twice or rinse off after use.
※If water remains on the area where the product is used, wipe it off before use.


Component
Ethanol, purified water, grapefruit seed extract, rosemary extract, Setouchi lemon essential oil
Capacity
500ml
Country of origin
Japan
Unusable
Wax, paint, varnish, and other painted parts, acrylic resin products, furniture made of white wood or paulownia wood, floors and furniture without surface treatment such as solid wood, food, special materials (lacquered, lacquered, mirror finish, matte finish, fluorinated floors, etc.) and stone


※Due to the natural ingredients in the product, the color and fragrance of the product may vary, but there is no quality problem.